Daily Archives:
September 12, 2012
A lesson for Iranian opposition ; 
Why the "Green Movement" failed?

 
Wednesday, 12 September 2012 09:46
By :Salah Bayaziddi
Three years since the massive political and social upheavals that followed June's 2009 disputed presidential election in Iran,
mostly known as "Green Movement", this question still pending and somehow unanswered: why the "Green Movement" failed? Beside the most inhuman tactics of crack down by security forces, the most creditable argument points to the lack of widespread support from Iran's ethnic-minority community, including Kurds, Arabs, Azerys, Turkmen and others, which limited the Green Movement's struggle for power in that country and indeed this was a fatally miscalculated policy that eventually weakened them in the final stage of confrontation with the hard-line theocrats in Tehran.
In another sign of show down with government, nearly eight months after the demonstrations and riots that followed June's disputed presidential election, Iran's Green Movement was still questioning the legality of the government of President Mahmud Ahmadinejad. Rallies and street confrontation that took place in Tehran and few major Iranian cities such as Tabriz and Esfahan on December 27 2009 had been in the works for months through new modern communication tools such as Twitter, Facebook, blogs, and word of mouth. Iran, it seems, was on the verge of having a new, unified, anti- government opposition movement that would undermine the whole power of the central authority if it continues to grow. However, it must be said while Iran's Green Movement had grown as a major popular opposition movement, which was a unique phenomenon since the Iranian Revolution that took place nearly 30 years ago; it was suffering from a major weakness that would limit the populist base of this movement for months to come. This major weakness was almost no widespread support of Iran's ethnic minorities (such as Kurds, Azeri, Baloches, Turkmens, and Arabs) by the Green Movement, and this will reduce its power base and paint it as mostly an internal struggle or factional divisions of the Persian elites.
At the early stages of campaigning for the Iran's presidential elections in 2009, both the ostensible leaders of the reform movement, Mir Hussein Mousavi and Mehdi Karroubi, promised greater cultural rights for Iran's ethnic minorities, which has been a legal demand under the existing Constitution since the early years of the Islamic government in Iran. Both the reform movement's leaders, the same as the previous reformist president, Mohammad Khatemi, who also promised the same degree of greater rights for minorities almost nine years ago, are fully aware of Iran's ethnic minority demands. During eight years of President Khatemi's administration, all those promises of greater rights for Iran's minorities remained on paper and no major changes took place all those years. There can be no doubt that the rise of reform movement during the early stage of President Khatemi's administration had its momentum and brought some degree of hope among Iran's ethnic minorities for greater cultural and political rights. However, very soon it became clear that the issue of minority rights within the boundaries of the existing Iranian Constitution would not be resolved and indeed was not compatible at all.
The emergence of the reform movement in Iran has aimed to create an image that restoring democratic and political rights of Iran's people can be achieved through ballot boxes. As a multi-ethnic country, Iran's reform movement has confronted its most sensitive and crucial issue as is seen in growing demands of over 50 percent of non-Persian Iranians who are asking for greater rights. Since the early period of the reform, there has been a tendency among some segments of these ethnic minorities to mobilize their powers, and through their collective efforts this might help them achieve some basic cultural rights within the existing Islamic Constitution of Iran. These primary and even somehow legal demands within the framework of the present regime could create a nonviolent and peaceful movement for the expansion of minority rights in Iran. What these primary ethnic minorities demand is greatly increased economic development spending in the non-Persian regions, a bigger share of the profits from oil and other natural resources in their areas, the unfettered use of non-Persian languages in education and politics, and freedom from religious persecution. However, even these primary and basic demands of Iranian minorities have been out of reach, and the reform movement failed to expand its populist base among all Iranians.
It is also worth noticing that in the first term of President Mahmud Ahmadinejad's office in the summer of 2005, the extra-judicial killing of a young Kurdish activist was the peak of injustice against Kurds and created massive protests and demonstrations in the Kurdish regions. It resulted in more death and hundreds of arrests of civilian Kurds, but even these bloody repressions and human rights abuses did not bring much attention of the so-called pro democracy reformists in Iran. Even worse was the passive response of pro-reform and opposition media outside of Iran, who were skeptical about the ethnic-minority struggle and evaluated it from a national interest point of view. No doubt these events resulted in the breaking away of the last remaining ties between the reform movement and ethnic-minority demands, and eventually created more shadow over the true intention of the reform leaders.
However, this didn't stop the reform leaders from playing the minority card one more time in the 2009 presidential election. Both reform leaders Mousavi and Karroubi intensively used the issue of greater ethnic rights as one of the major promises of their campaign, and by some extent they went much further in promoting this issue than the previous reformist president. Had Mousavi come into office following the June 12 presidential election, he would not have challenged the dominated Persian-base of the political system in Iran. Indeed, Mousavi's rivalry with President Ahmadinejad has little to do with the current regime's ethnic-minority policies or expansion of democratic rights of its citizens, and far more to do with internal power struggles that have existed since the early years of the Islamic Republic in Iran. Therefore, it is logical to argue that a new leader would not have fundamentally changed government's position on minority rights or its human-rights stand. The most obvious outcome these disappointing results will bring is more distance, and then, even more convinced and trusting people among the minorities won't believe the so-called reform movement anymore. Also, this situation will result in a major setback for the process of restoring democratic principle in general and speeding in radicalization of ethnic minority demands in Iran. At the early stage for some of the minority leaders, these goals could have been achieved through regional autonomy under the existing Constitution, but now most of them want to reconstitute Iran as a loose confederation or to declare independence
‌
حمیدرضا حاجی بابایی وزیرآموزش و پرورش کابینهٔ احمدی‌نژاد:   ٧٠درصد دانش‌آموزان در سراسر کشور دو زبانه بوده و پس از ورود به کلاس اول و گذراندن یک سال تحصیلی هنوز زبان مادری آنها به فارسی تبدیل نشده است!!
 سرویس: اجتماعي – آموزش و پرورش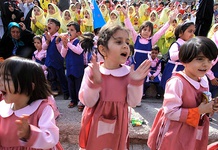 معاون آموزش ابتدایی وزارت آموزش و پرورش گفت: 100 ساعت آموزش زبان فارسی برای دانش آموزان دوزبانه در مقطع پیش‌دبستانی برگزار می‌شود.
فاطمه قربان درگفت‌وگو با خبرنگار«اجتماعی» خبرگزاری دانشجویان ایران(ایسنا)، در پاسخ این سوال که تعداد دانش‌آموزان دوزبانه کشور چقدر است اظهار کرد: تنها به ذکر این نکته بسنده می کنم که یک سوم دانش آموزان کشور ساکن روستاها هستند.
ضمن اینکه حاجی‌بابایی پیش از این اظهار کرده بود: 70 درصد دانش‌آموزان در سراسر کشور دو زبانه بوده و پس از ورود به کلاس اول و گذراندن یک سال تحصیلی هنوز زبان مادری آنها به فارسی تبدیل نشده است؛ این گونه دانش‌آموزان چگونه می‌توانند با دانش‌آموزانی که در تهران تحصیل می‌کنند رقابت کنند
حاجی‌بابایی آذرماه 1388 گفته بود: دانش‌آموزی که در کلاس اول با این افت تحصیلی مواجه شود تا آخر نیز نمی‌تواند موفق باشد.
به گزارش ایسنا، آموزش زبان فارسی به کودکان دوزبانه در مقطع پیش‌دبستانی درحالی در دستورکار قرار گرفته که در پیمان‌نامه حمایت از حقوق کودکان که بیش از 18سال از پیوستن ایران به آن می گذرد بر لزوم توجه به زبان کودکان دوزبانه تاکید شده است.