Monthly Archives:
February 2019
2 Civil Activists Reportedly Held in Iranian Kurdistan
February 15, 2019, 9:31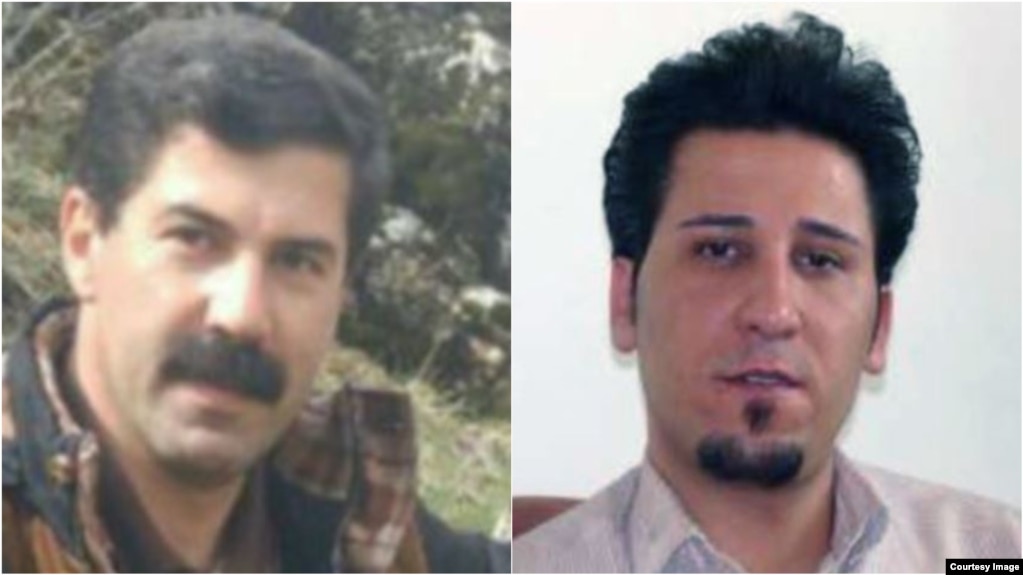 Mokhtar Asadi, left, a member of the Kurdistan Teachers Association, and environmentalist Sirwan Ghorbani were detained recently in Iran, rights groups report.
Iranian rights groups say authorities have detained two civil activists in the country's northwestern Kurdistan province in recent days, one a teachers union member and the other an environmentalist.
Four groups quoted sources as saying Iranian security agents arrested Mokhtar Asadi, a member of the Kurdistan Teachers Association, in Sanandaj as he traveled home with his family on Thursday. They said Asadi was detained without a warrant and taken to an unknown location, hours after dozens of teachers held a peaceful protest outside the Sanandaj educational department.
The groups reporting on Asadi's detention were Iran's Campaign for the Defense of Political and Civil Prisoners, Human Rights Activist News Agency (HRANA), Kurdistan Human Rights Association and Kurdistan Human Rights Network(KHRN).
The Sanandaj rally was part of a series of teacher protests held Thursday in six Iranian cities, with activists denouncing perceived government suppression of their rights and calling for better working conditions in their poorly paid profession.
There was no word on Asadi's case in Iranian state media. He has been arrested several times before in relation to his advocacy for teachers' rights and had been released from his most recent detention last July after spending a year in Tehran's Evin prison on a charge of spreading anti-government propaganda.
HRANA has said Iranian authorities have tightened their grip on labor unions in recent years and have shown a "particular vitriol" toward those representing educators.
U.S.-based group Human Rights Watch joined four Iranian rights organizations in reporting the arrest of environmentalist Sirwan Ghorbani in Kamyaran on Tuesday. They said Iranian security officers detained Ghorbani, also a central council member of the Kurdistan National Unity Party, at his home.
The Iranian rights groups quoted sources as saying the officers who raided Ghorbani's home put a sack over his head, seized some of his personal belongings and confiscated the mobile phone of his sister Samira Ghorbani, who fainted and had to be taken to a hospital. They said the agents also ordered Samira Ghorbani to report to a local information bureau in the coming days.
Iranian state media were silent on Sirwan Ghorbani's arrest, details of which were reported by Campaign for the Defense of Political and Civil Prisoners, HRANA, KHRN and the Kurdistan Press Agency (KurdPA).
The rights groups said Iranian authorities detained 10 other environmental and civil activists in Kamyaran and Sanandaj in late December and in recent days extended their arrest for another month. A Jan. 7 report by Iranian state news agency IRNA quoted Kurdistan provincial deputy security chief Hussein Khosheqbal as saying those detained had been engaged in "criminal activities" on behalf of environmental groups.
Iran has come under criticism from international rights activists for its recent detentions and prosecutions of other Iranian environmentalists. Eight have been on trial since last month on spying-related charges that their supporters say are bogus.
This article originated in VOA's Persian service.
Source: https://www.voanews.com/a/civil-activists-reportedly-held-in-iranian-kurdistan/4789579.html?fbclid=IwAR218spcoilnf8CAZNYl0RNiYjOB_kRxVAROilC4YQUS5Evrygv2UPRimXQ#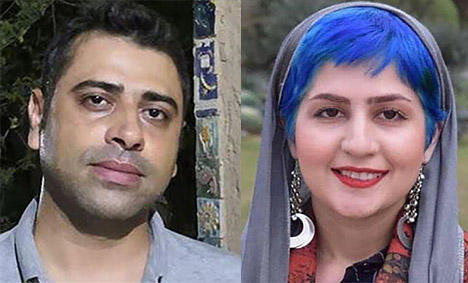 Esmail and Sepideh were badly beaten with metal bars, restrained for long hours and intimidated with sexually abusive language.
They were first arrested in November 2018 for protesting the unpaid wages and poor working conditions of a sugar cane company in Iran. After speaking out they were rearrested and they could be facing further torture as you read this.
Peacefully protesting for workers' rights is not a crime. Please email the president of Iran demanding their immediate release.
'I could hardly walk for several days. I developed a fever and a cold. My face was swollen and blood clots came out of my nose. I could not move my jaw to chew food.'
Esmail Bakshi
When Esmail Bakhsi and Sepideh Gholian were first arrested they were taken to an office of security police in Khuzestan province.
Sepideh – a young student – was beaten, slammed against a wall and hit on her shoulder with the metal strap of her handbag.
'The intelligence official slapped me in the head and insulted me constantly. He used very vulgar and violent sexual language, called me a 'whore', said I was having sexual relationships with Haft Tappeh workers, and threatened to get my relatives to kill me to protect the family's honour.'
Sepideh
Esmail Bakhshi – a sugarcane industry worker – tried to stop this humiliation. He was shoved to the ground, had his hands tied behind his back, and was beaten by several men.
The situation went from bad to worse.
Forced confessions
The pair were transferred to an undisclosed location. During the one and a half hour trip they were tortured several times.
Esmail Bakhshi said that the officials pulled his hair, hit him with their fists and batons, and strangled him multiple times. He said that the officials also pulled his legs apart and hit him in the testicles.
'I experienced severe burning when urinating and I was in so much pain that it even hurt to sleep. After nearly two months, I still feel pain in my broken ribs, kidneys, ears and testicles.'
Esmail
When they arrived in the detention centre they were told by officials: 'This place is the end of the world. There are no human rights here and you have no option but to confess like a dog'.
Then they were violently interrogated in long sessions which often started around 10am and lasted until the early hours of the following morning. They had no access to their lawyers during this period. All the while, they heard the screams of other victims from neighbouring cells.
On 19 January their 'confessions' were broadcast on state TV. They 'confessed' to colluding with Marxist and Communist groups outside Iran in an attempt to overthrow the Islamic Republic through organising workers' strikes and demonstrations.
Who are they?
Esmail Bakhshi is a worker at Haft Tappeh sugar cane company who has spoken out bravely at peaceful protests over unpaid wages and poor working conditions.
Sepideh Gholian is a young university student and labour rights activist who attended the protests of Haft Tappeh workers and supported them through reporting on social media.
They are peaceful protesters who should be allowed to speak out against poor working conditions in their country.
They have been treated in the most appalling way and could be facing further torture as you read this. We must send a message to Iran that this will not stand.
Please send an instant email to the President of Iran demanding their release.
ACT NOW
SEND INSTANT EMAIL
جمهوری اسلامی ايران = چهل سال غارت و چپاول مردم محروم
سالار حسامی
٢٤ بهمن ١٣٩٧
شورش، قیام، یا انقلاب سال ١٣٥٧ را در هر قالبی نامگذاری کنیم، نمیتوانیم غیر از تحجر و واپسگرایی نشانی از "دگرگشت"ی روبه‌ پیشرفت را برای آن بیابیم. پلاتفرم و کارنامه‌ی سیاه جمهوری اسلامی ایران در چهار دهه‌ی اخیر به روشنى مصداق این ادعا است، که‌ سران جمهوری اسلامی ایران با حکومت "پان مذهبی" و بنياد گراياشان موجب شدند نه تنها ایران بلكه چندين كشور  اسلامى در جهان را هم كه از انقلاب ايران الگو بردارى كرده بودند را از مسير پيشرفت و تمدن باز داشته و به تحجر  و واپس گرايي بكشانند. سران اين حكومتها ثروت و سامان ملی را به‌ جیب تروریستان و آقازاده‌هایشان ریختند و با ناکارآمدی اقتصادی، سياسى و نظامى مردم محروم ايران و ديگر كشورى تحت نفوذشان را به‌ خاک سیاه‌ بنشانند
ساختار سياسى این رژیم كه بر پایه‌ی "صدور انقلاب" که‌ همانا صدور تروریسم به کشورهای دیگر منطقه بودبنيان نهاده‌ شد و حاصل این حکومت، چهل سال غارت و چپاول، اختلاس، روابط انگلی و واسطه‌گری، فقر و گرسنگی، توسعه‌ی فساد و فحشا، کشتار زندانیان و در نهایت ترور دگراندیشان در داخل و فراسوی مر‌زهای ایران بود.
آمال توده‌های مردم از براندازى رژیم سلطنتی پهلوی در ایران، مبارزه با دیکتاتوری فردی،  مبارزه با فساد حکومتی،  كاهش مشکلات اجتماعی،  از بين بردن شکاف شديد طبقاتی در ميان اقشار مردم،  بهینه‌کردن اوضاع اقتصادی و بنيانگذاری دمکراسی (حکومت مردم بر مردم) بود. اما آخوندهایی که‌ با شعار: "پول نفت را بر سر سفره‌هایتان میاوریم…"، زمام قدرت را به‌ دست گرفتند، كاملا مغاير با اين خواستها و آرزوهاى مردم عمل كردند . تا جایی که‌ اکنون نه‌ تنها ملل ساكن در ايران ، بلکه‌ جامعه‌ی جهاني هم به‌ این حقیقت رسیده‌است که‌ پس از چهل سال غارت و چپاول ثروتهاى مردم محروم ایران ، و به‌ صلیب کشیدن امید و آرزوهای دو نسل از ايرانيان، تنها امیدی که‌  براى اين مردم باقی  مانده است، همانا تغيير اين رژيم با يك قیام فراگير توسط
مردم قهرمان ايران است.
شكست سياستهاى جمهورى اسلامى ايران در همه عرضه ها پس از گذشت ٤٠ سال از عمر نافرجام جمهورى اسلامى ايران ، مويد اين واقعييت است كه هر حکومه‌تی با ساختارهاى حكومتى و با مدل حکمرانی جمهوری اسلامی ايران در هر نقطه اى از جهان محکوم به‌  شكست است و راهى جز براندازی و تغيير آن وجود نخواهد داشت.
در تظاهرات گسترده‌ و سراسری دی ماه‌ ١٣٩٦ خورشيدى که‌ بیش از بیست استان كشور را در بر گرفت، مردم زجر كشيده و محروم  ايران با شعار "مرگ بر خامنه‌ای، مرگ بر روحانی، مرگ بر اصل ولایت فقیه…" براندازی و سرنگونی نظام آخوندی را خواستار شدند. اين حركت گسترده اعتراضى و سراسرى  موجب شد كه دستگاههاى امنيتى و اطلاعاتى ايران با ايجاد جو شديد پليسى، دستگيريهاى گسترده و ايجاد جو رعب و وحشت و در همان حال با اعلام  قول و قرارهاى دروغين بتوانند از گسترش و ادامه اين حركات اعتراضى بصورت موقت جلوگيرى كنند.
امسال و در سالگرد انقلاب اسلامى هم دستگاههاى اطلاعاتى و امنيتى رژیم با ايجاد جو ترس و هراس و استفاده از ترفند تطمیع موفق شدند بخشي از مردم را به نمايش هاى خيابانى خود براى نشان دادن قدرت كذايي نظامى و موشکهای دوربردشان بكشانند، با اينحال تدابیر شديد و خشن امنیتی درهمين ايام نشان داد كه جمهورى اسلامى ايران آخرين روزهاى عمر خود را سپرى مي كند و بدون تردید با اراده‌ی‌  آهنين مردم سقوط،  براندازی و سرنگونی اين نظام .چندى نخواهد پائيد و  بهار آزادی نزدیک است.
برای صحت این ادعا، کافی است، به‌ سخنان سید سلمان سامانی (سخنگوی وزارت کشور- در کابینه‌ی روحانی)، اشاره‌ کرد، که‌ اخیرا پرده‌ از روی نفرت و انزجار مردم به‌ جان آمده‌ از نظام آخوندی برداشت و گفت: "در طول شش سال دولت روحانی چهل و سه‌ هزار (٤٣٠٠٠) حرکت اعتراضی در کشور برگزار شده است.."