URGENT: LABOUR RIGHTS ACTIVISTS RISK TORTURE IN IRAN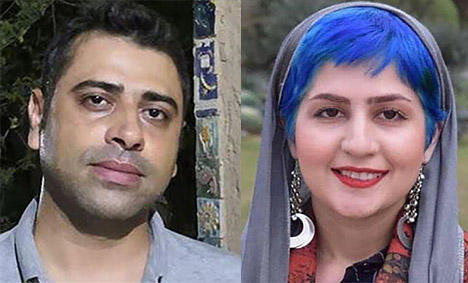 Esmail and Sepideh were badly beaten with metal bars, restrained for long hours and intimidated with sexually abusive language.
They were first arrested in November 2018 for protesting the unpaid wages and poor working conditions of a sugar cane company in Iran. After speaking out they were rearrested and they could be facing further torture as you read this.
Peacefully protesting for workers' rights is not a crime. Please email the president of Iran demanding their immediate release.
'I could hardly walk for several days. I developed a fever and a cold. My face was swollen and blood clots came out of my nose. I could not move my jaw to chew food.'
Esmail Bakshi
When Esmail Bakhsi and Sepideh Gholian were first arrested they were taken to an office of security police in Khuzestan province.
Sepideh – a young student – was beaten, slammed against a wall and hit on her shoulder with the metal strap of her handbag.
'The intelligence official slapped me in the head and insulted me constantly. He used very vulgar and violent sexual language, called me a 'whore', said I was having sexual relationships with Haft Tappeh workers, and threatened to get my relatives to kill me to protect the family's honour.'
Sepideh
Esmail Bakhshi – a sugarcane industry worker – tried to stop this humiliation. He was shoved to the ground, had his hands tied behind his back, and was beaten by several men.
The situation went from bad to worse.
Forced confessions
The pair were transferred to an undisclosed location. During the one and a half hour trip they were tortured several times.
Esmail Bakhshi said that the officials pulled his hair, hit him with their fists and batons, and strangled him multiple times. He said that the officials also pulled his legs apart and hit him in the testicles.
'I experienced severe burning when urinating and I was in so much pain that it even hurt to sleep. After nearly two months, I still feel pain in my broken ribs, kidneys, ears and testicles.'
Esmail
When they arrived in the detention centre they were told by officials: 'This place is the end of the world. There are no human rights here and you have no option but to confess like a dog'.
Then they were violently interrogated in long sessions which often started around 10am and lasted until the early hours of the following morning. They had no access to their lawyers during this period. All the while, they heard the screams of other victims from neighbouring cells.
On 19 January their 'confessions' were broadcast on state TV. They 'confessed' to colluding with Marxist and Communist groups outside Iran in an attempt to overthrow the Islamic Republic through organising workers' strikes and demonstrations.
Who are they?
Esmail Bakhshi is a worker at Haft Tappeh sugar cane company who has spoken out bravely at peaceful protests over unpaid wages and poor working conditions.
Sepideh Gholian is a young university student and labour rights activist who attended the protests of Haft Tappeh workers and supported them through reporting on social media.
They are peaceful protesters who should be allowed to speak out against poor working conditions in their country.
They have been treated in the most appalling way and could be facing further torture as you read this. We must send a message to Iran that this will not stand.
Please send an instant email to the President of Iran demanding their release.
ACT NOW
SEND INSTANT EMAIL