Blog Archives
World Bank: Iran Likely to Suffer Worse Recession Than Previously Thought
June 05, 2019 7:40 PM
By: Michael Lipin
WASHINGTON —The World Bank says Iran is likely to experience an even worse recession this year than previously thought, as U.S. sanctions largely choke off oil exports that have been Tehran's main revenue source.
In its latest Global Economic Prospects report published Wednesday, the Washington-based institution that provides loans to countries said it expects Iran's Gross Domestic Product to shrink by 4.5% this year, a steeper contraction than its earlier estimate of negative 3.6% GDP growth for 2019.
"The oil industry is an important part of Iran's economy, and its oil production is clearly going to drop because of the new U.S. sanctions," said Patrick Clawson, research director for the Washington Institute for Near East Policy, in a VOA Persian interview on Wednesday.
The Trump administration imposed a total, unilateral ban on Iranian oil exports on May 2 as part of its campaign of "maximum pressure" on Iran to negotiate an end to its perceived malign behaviors. It had issued sanctions waivers to eight of Iran's oil customers in November to allow them to keep importing Iranian crude for six months, but later said it would not renew those waivers and would require those customers to reduce such imports to zero.
U.S. economist Steve Hanke of Johns Hopkins University in Baltimore told VOA Persian in another Wednesday interview that Iran's internal economic problems also are to blame for its worsening recession. "Iran is very corrupt, has very little economic freedom, and it's hard to start a business there because Iran is not really a free market or liberal economy," Hanke said.
Transparency International, a Berlin-based civil society organization that monitors global corruption, has ranked Iran 138 out of 180 countries in its Corruption Perceptions Index.
Iran's other low global economic rankings include 155 out of 180 nations in the Economic Freedom Index of the Washington-based Heritage Foundation, a conservative public policy institute, and 128 out of 190 governments in the World Bank's Ease of Doing Business index.
The World Bank's new report also said Iran's year-on-year inflation rate has risen sharply from about 10% in the middle of last year to about 52% in April. It said the depreciation of Iran's rial since May 2018, when the U.S. announced it would re-impose sanctions on Iran, has contributed to the rising inflation. The rial's slump versus the dollar in Iran's unofficial currency market has made dollar-denominated imports more expensive for Iranians.
Clawson said Iran's inflation is high primarily because it is relying on printing money to finance its spending. "The Iranian government is not bringing in enough revenue to pay for its expenses, so it is borrowing money from the banking system to cover the difference, and that is driving inflation," he said.
Hanke, who says he is the only economist outside Iran to measure its inflation with high frequency, told VOA Persian that he calculated Iran's actual inflation rate to be 113% on Wednesday, much higher than the World Bank's latest reading.
The World Bank's projection of a 4.5% contraction in Iran's GDP this year is not as bad as the 6% contraction predicted by the International Monetary Fund, another global lending agency, in its latest report from April. The World Bank also said it expects economic growth in Iran to return next year "as the impact of U.S. sanctions tapers off and as inflation stabilizes." It projected a 0.9% rise in Iran's GDP for 2020.
Hanke declined to make his own predictions for Iran's economic performance, saying any forecasts for a nation such as Iran are problematic because they rely on guesswork.
This article originated in VOA's Persian Service. 
Michael covers international news for VOA on the web, radio, and TV, specializing in the Middle East and East Asia Pacific. Follow him on Twitter @Michael_Lipin
2 Civil Activists Reportedly Held in Iranian Kurdistan
February 15, 2019, 9:31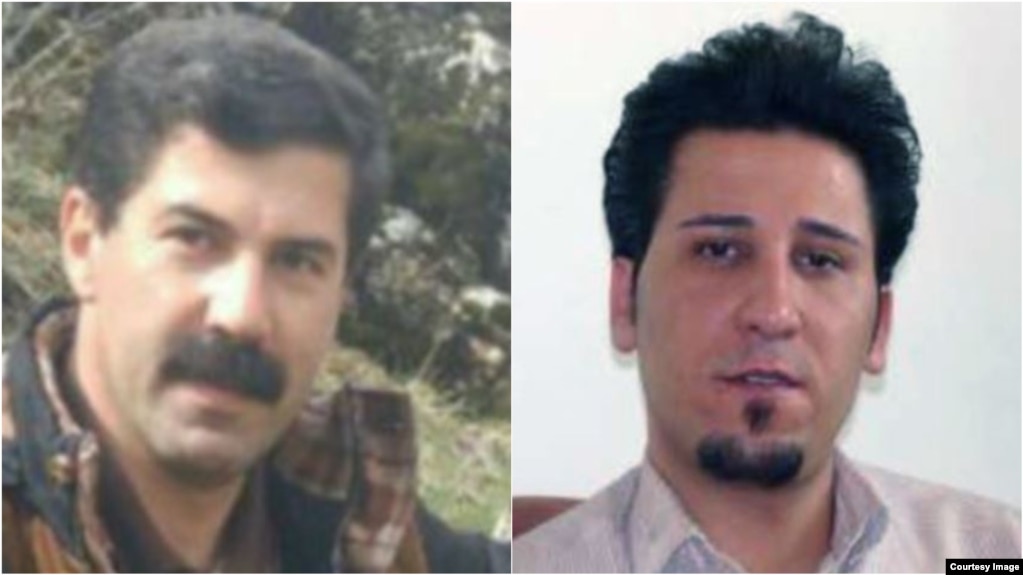 Mokhtar Asadi, left, a member of the Kurdistan Teachers Association, and environmentalist Sirwan Ghorbani were detained recently in Iran, rights groups report.
Iranian rights groups say authorities have detained two civil activists in the country's northwestern Kurdistan province in recent days, one a teachers union member and the other an environmentalist.
Four groups quoted sources as saying Iranian security agents arrested Mokhtar Asadi, a member of the Kurdistan Teachers Association, in Sanandaj as he traveled home with his family on Thursday. They said Asadi was detained without a warrant and taken to an unknown location, hours after dozens of teachers held a peaceful protest outside the Sanandaj educational department.
The groups reporting on Asadi's detention were Iran's Campaign for the Defense of Political and Civil Prisoners, Human Rights Activist News Agency (HRANA), Kurdistan Human Rights Association and Kurdistan Human Rights Network(KHRN).
The Sanandaj rally was part of a series of teacher protests held Thursday in six Iranian cities, with activists denouncing perceived government suppression of their rights and calling for better working conditions in their poorly paid profession.
There was no word on Asadi's case in Iranian state media. He has been arrested several times before in relation to his advocacy for teachers' rights and had been released from his most recent detention last July after spending a year in Tehran's Evin prison on a charge of spreading anti-government propaganda.
HRANA has said Iranian authorities have tightened their grip on labor unions in recent years and have shown a "particular vitriol" toward those representing educators.
U.S.-based group Human Rights Watch joined four Iranian rights organizations in reporting the arrest of environmentalist Sirwan Ghorbani in Kamyaran on Tuesday. They said Iranian security officers detained Ghorbani, also a central council member of the Kurdistan National Unity Party, at his home.
The Iranian rights groups quoted sources as saying the officers who raided Ghorbani's home put a sack over his head, seized some of his personal belongings and confiscated the mobile phone of his sister Samira Ghorbani, who fainted and had to be taken to a hospital. They said the agents also ordered Samira Ghorbani to report to a local information bureau in the coming days.
Iranian state media were silent on Sirwan Ghorbani's arrest, details of which were reported by Campaign for the Defense of Political and Civil Prisoners, HRANA, KHRN and the Kurdistan Press Agency (KurdPA).
The rights groups said Iranian authorities detained 10 other environmental and civil activists in Kamyaran and Sanandaj in late December and in recent days extended their arrest for another month. A Jan. 7 report by Iranian state news agency IRNA quoted Kurdistan provincial deputy security chief Hussein Khosheqbal as saying those detained had been engaged in "criminal activities" on behalf of environmental groups.
Iran has come under criticism from international rights activists for its recent detentions and prosecutions of other Iranian environmentalists. Eight have been on trial since last month on spying-related charges that their supporters say are bogus.
This article originated in VOA's Persian service.
Source: https://www.voanews.com/a/civil-activists-reportedly-held-in-iranian-kurdistan/4789579.html?fbclid=IwAR218spcoilnf8CAZNYl0RNiYjOB_kRxVAROilC4YQUS5Evrygv2UPRimXQ#
  پـێنجشه‌ممه‌, 24 ی مانگی سێ 2011
له‌ لایه‌ن: Jani Diylan
سه‌رۆك به‌راك ئوباما له‌ په‌یامی نه‌ورۆزی ئه‌مساڵیدا جارێکی تر له‌گه‌ڵ ئێرانیه‌کاندا دوا و به‌ پێچه‌وانه‌ی ساڵانی پێشووتر په‌یامه‌که‌ی ڕاسته‌وخۆ ئاراسته‌ی خه‌ڵکی ئێران بوو به‌ تاێبه‌تی گه‌نجه‌کان.
دوکتور ئازاد مورادیان برپرسی کۆمیته‌ی کورده‌کانی دانیشتووی ئه‌مریکا بۆ دیموکراسی و مافی مرۆڤ له‌ ئێران ده‌ڵێت ئوباما ده‌یه‌ویت بڵی ئێران له‌و گۆرانکاریه‌ی که‌ له‌ ناوچه‌که‌دا له‌ ئارادایه‌، جیا نییه‌ و ئاینده‌ی ئیرانیش ئه‌وه‌یه‌ که‌ گه‌نجه‌کان ده‌یانه‌وێ.
مورادیان ده‌شڵێت من پێم وایه‌ سیستمی ئێران سیستمیکی فه‌ره‌ نه‌ته‌وه‌ییه‌ وه‌ ئه‌گه‌ر بۆچوونێک هه‌یه‌ سه‌باره‌ت به‌ ئێران ده‌بێ به‌ پێ ئه‌و سیستمی فه‌ره‌ نه‌ته‌وه‌ییه‌ بێت، ئه‌وه‌یه‌ که‌ ئێران وه‌کو شتێکی یه‌کسان ته‌ماشا ده‌کات به‌ بێ ئه‌وه‌ی ته‌ماشای نه‌ته‌وه‌کانی ئیران بکات، له‌ کاتێکدا باس له‌ ده‌ستگیرکردنی خوێندکارێك، پاریزه‌رێك وه‌ یاخود ده‌رهێنه‌ری فیلم ده‌کات باس له‌ کێشه‌ی نه‌ته‌وه‌کانی ئێران ناکات، له‌ جیاتی ئه‌وه‌ی باسی فه‌رزاد که‌مانگه‌ر بکات که‌ له‌سه‌ر بیرو راکانی له‌ سێداره‌ دراوه‌ دێت باسی کێشه‌کان به‌ گشتی ده‌کات، له‌ کاتێکدا باسی به‌هائیه‌کان ده‌کات باسی یارستانه‌کان ناکات که‌ به‌ هۆی یارستانی بوونیان له‌ سێداره‌ ده‌درێن.
ده‌توانن له‌ ڕێی کلیککردنی ئه‌و فایله‌ ده‌نگیانه‌ی سه‌ره‌وه‌ی ده‌سته‌ چه‌پ گوێبیستی ته‌واوی گفت و گۆکه‌ بن که‌ ماوه‌که‌ی 14:37خوله‌که‌.
 ده‌توانن له‌ ڕێی کلیککردنی ئه‌و فایله‌ ده‌نگیانه‌ی سه‌ره‌وه‌ی ده‌سته‌ چه‌پ گوێبیستی ته‌واوی گفت و گۆکه‌ بن که‌ ماوه‌که‌ی 14:37خوله‌که